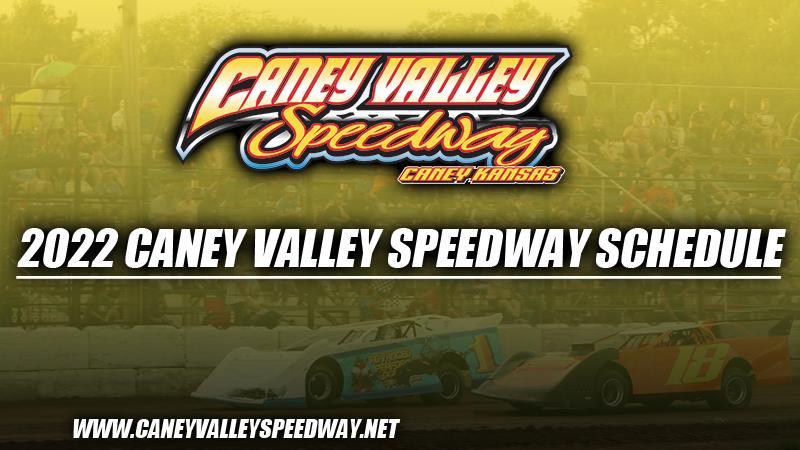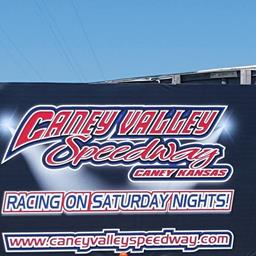 12/10/2021
Caney Valley Speedway
---
28 nights of racing scheduled for Caney Valley Speedway in 2022
by John Rittenoure - CANEY, Kans. (December 10, 2021) - An aggressive schedule with something for everyone is on tap at Caney Valley Speedway this summer.
A total of 28 dates have been booked between March 27 and November 5 with various special events set on 16 of those nights.
The AmeriFlex / OCRS Sprint Cars will return in 2022 with point races scheduled for May 14, June 11 and October 8. Lucas Oil ASCS Sooner Region sprints will stop at Caney on April 16 and The Lucas Oil ASCS National Tour will race on July 27 and again on September 10.
The brand new United Sprint League (USL) non-wing sprint cars, recently acquired by Caney Valley Speedway owner Kerry Gorby and co-owner Terry Mattox, will tackle the Caney quarter-mile on April 30 and July 16. The USL will be joined on July 16 by the USRA ARMS Modifieds.
A new 410 sprint car series has been formed by POWRi and they will make their only Oklahoma appearance at Caney on July 9.
Micro Sprint racing is back with the NOW600 coming June 8, as part of SpeedWeeks, and again on October 7-8. The October 8 show is in addition to OCRS Sprints.
Late Models will headline six nights in 2022 with two of those special events. August 6 will feature the Memorial Late Model Special, and the topless Octopless Late Model Special will be October 1.
The CVS Weekly Point Series will consist of USRA B-Mods, Factory Stocks, Pure Stocks, USRA Tuners, and new this season is Lady Tuners. This class will give the ladies an introduction into racing.
The 2022 season opens March 27 with the March Madness Enduro and ends on November 5 with the Fall Fury Enduro.
The final CVS Weekly Points Series race is October 29.
2022 Caney Valley Speedway Schedule
March 27 - March Madness Enduro
April 2 - Opening Night (Late Models, USRA B-Mods, Factory Stocks, Pure Stocks, USRA Tuners, Lady Tuners)
April 9 - CVS Weekly Series ( USRA B-Mods, Factory Stocks, Pure Stocks, USRA Tuners, Lady Tuners)
April 16 - ASCS Sooner Region Sprints ( USRA B-Mods, Factory Stocks, Pure Stocks, USRA Tuners, Lady Tuners)
April 23 - CVS Weekly Series ( USRA B-Mods, Factory Stocks, Pure Stocks, USRA Tuners, Lady Tuners)
April 30 - USL Non-Wing Sprints (Factory Stocks, Pure Stocks, USRA Tuners, Lady Tuners)
May 7 - CVS Weekly Series ( Late Models, USRA B-Mods, Factory Stocks, Pure Stocks, USRA Tuners, Lady Tuners)
May 14 - OCRS Sprints (Factory Stocks, Pure Stocks, USRA Tuners, Lady Tuners)
May 21 - CVS Weekly Series ( USRA B-Mods, Factory Stocks, Pure Stocks, USRA Tuners, Lady Tuners)
May 28 - OFF NO RACING
June 4 - OFF NO RACING
June 8 (Wed) - NOW600 Speedweek (NOW600 Micros, USRA B-Mods, Factory Stocks, Pure Stocks)
June 11 - OCRS Sprints ( USRA B-Mods, Factory Stocks, Pure Stocks, USRA Tuners, Lady Tuners)
June 18 - CVS Weekly Series ( USRA B-Mods, Factory Stocks, Pure Stocks, USRA Tuners, Lady Tuners)
June 25 - OFF NO RACING
July 1 (Friday) - CVS Weekly Series ( Late Models, USRA B-Mods, Factory Stocks, Pure Stocks, USRA Tuners, Lady Tuners)
July 9 - POWRi 410 Sprints (Factory Stocks, Pure Stocks, USRA Tuners, Lady Tuners)
July 16 - USL Non Wing Sprints & USRA ARMS Modifieds - (USRA B-Mods, Factory Stocks, Pure Stocks, USRA Tuners, Lady Tuners)
July 23 - CVS Weekly Series ( USRA B-Mods, Factory Stocks, Pure Stocks, USRA Tuners, Lady Tuners)
July 27 (Wed) - Lucas Oil ASCS National Sprints - (Factory Stocks, Pure Stocks, USRA Tuners)
July 30 - OFF NO RACING
August 6 - The Memorial Late Model Special - ( USRA B-Mods, Factory Stocks, Pure Stocks, USRA Tuners, Lady Tuners)
August 13 - OFF NO RACING
August 20 - CVS Weekly Series ( USRA B-Mods, Factory Stocks, Pure Stocks, USRA Tuners, Lady Tuners)
August 27 - Sooner Late Model Series ( USRA B-Mods, Factory Stocks, Pure Stocks, USRA Tuners, Lady Tuners)
September 3 - OFF NO RACING
September 10 - Lucas Oil ASCS National Sprints - (Factory Stocks, Pure Stocks, USRA Tuners, Lady Tuners)
September 17 - CVS Weekly Series ( Late Models, USRA B-Mods, Factory Stocks, Pure Stocks, USRA Tuners, Lady Tuners)
September 24 - CVS Weekly Series ( USRA B-Mods, Factory Stocks, Pure Stocks, USRA Tuners, Lady Tuners)
October 1 - Octopless Late Model Special - ( USRA B-Mods, Factory Stocks, Pure Stocks, USRA Tuners, Lady Tuners)
October 7 - NOW600 National Micros - (Factory Stocks, Pure Stocks)
October 8 - NOW600 National Micros, OCRS Sprints (Factory Stocks, Pure Stocks)
October 15 - Possible Rain Date
October 22 - Possible Rain Date
October 29 - CVS Weekly Series last points race ( USRA B-Mods, Factory Stocks, Pure Stocks, USRA Tuners, Lady Tuners)
November 5 - Fall Fury Enduro
Article Credit: John Rittenoure
---
Article Credit: John Rittenoure
Back to News