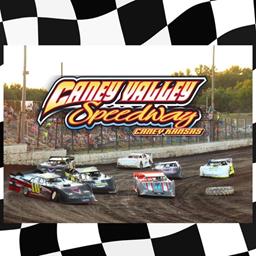 4/28/2023
Caney Valley Speedway
---
SATURDAY, APRIL 28 POSTPONED!
CANEY, Kan. (April 28, 2023) - Due to already saturated grounds and more rain in the forecast overnight, officials at Caney Valley Speedway and the Oil Capital Racing Series have made the decision to postpone tomorrows event.
"With the grounds already saturated and more rain is expected overnight, it is just in our best interest to call off the races for Saturday early to allow our racers and fans to look for other events if possible." stated Caney Valley Speedway Promoter, Kerry Gorby.
The 2023 season will now begin on Saturday, May 6 with a full lineup of racing on tap featuring the Midwest Modifieds, USRA B-Mods, USRA Tuners, Factory Stocks and Pure Stocks at 7pm.
For more information on Caney Valley Speedway, you can find us online at www.CaneyValleySpeedway.net.
---
Submitted By: Terry Mattox
Back to News